NATURE, CULTURE & TRADITION
Windhoek, Maltahohe, Namib, Swakopmund, Erongo Mountains, Damaraland, Etosha National Park, Etosha East and Waterberg Plateau National Park
16 Days - 15 Nights

Keys
D, B&B : Dinner, Bed and Breakfast

B&B : Bed and Breakfast



NAMIBIA

Located in south-western Africa, Namibia boasts a well-developed infrastructure, some of the best tourist facilities in Africa, and an impressive list of breath-taking natural wonders. Visitors can explore the capital of Windhoek and discover the lovely coastal town of Swakopmund boasting remnants of the country's German influence, reflected in the architecture, culture, cuisine and the annual Oktoberfest celebrations. To appreciate this extraordinary country appropriately, you will have to venture out of the cities to explore the remarkable natural landscapes Namibia has to offer. These include: the impressive Fish River Canyon; the vast Etosha National Park teeming with abundant wildlife, such as lions, desert-adapted elephants and the Hartmann's Mountain Zebra; the hauntingly beautiful Kalahari Desert; and of course the Namib Desert stretching for over 2000 km along the magnificent Atlantic Coast. Namibia is an ideal destination for travellers seeking an unforgettable African experience in a uniquely beautiful untamed wilderness.

BANKING AND CURRENCY
Currency
The currency of Namibia is The Namibian Dollar (NAD; symbol N$) is in note denominations of N$200, 100, 50, 20 and 10. Coins are in denominations of N$5, N$1, 50 cents, 10 cents and 5 cents. It is linked to the South African Rand (R) on a 1:1 basis (South African Rand = 100 cents). The South African Rand is also acceptable as currency in Namibia.
The import and export of local currency is limited to N$50,000. The import of foreign currency is unlimited, provided sums equal to or exceeding NAD5,000 are declared on arrival. Export of foreign currency is unlimited up to the amount imported and declared.
Banking
Banking hours: Monday - Friday 09h00 to 15h30 and Satuday 08h30 to 11h00
Banks are found in most towns, with most being closed on Sundays and public holidays. Most of them offer foreign exchange services - with cash, bank and credit cards as well as travellers  cheques. 
American Express, Diners Club, Mastercard and Visa are accepted. Credit cards are not usually accepted at petrol stations, so bear this in mind when you visit the ATM. Setting aside an emergency petrol cash fund is a good idea if you're planning to drive.
You can also obtain cash from many of the ATMs. Several international banks have branches in main city centres. Always advise your bank that you are travelling outside of the country as they might block your purchases if they have not been informed. 
To avoid additional exchange rate charges, take traveller's cheques in US Dollars or South African Rand. In general, you can expect a better exchange rate for traveller's cheques than for cash.
---
TRAVEL, TRANSPORT AND GETTING AROUND
Public transport in Namibia is geared towards the needs of the local populace, and is confined to main roads between major population centres. Although cheap and reliable, it is of little use to the traveller as most of Namibia's tourist attractions lie off the beaten track.
It is easy to travel around Namibia by car, and a 2WD vehicle is perfectly adaquate for most journeys. However, long distances, poor mobile phone coverage outside of main towns and infrequent petrol stations that only accept cash mean that planning ahead is vital.
There are major airlines that fly into Windhoek and Swakopmund. Other destinations are reachable by car or charter flight. 
Namibians drive on the left and all signposts are in English. Seat belts must be worn at all times and talking in a mobile phone while driving is prohibited. The general speed limit is 120km/h on tarred roads outside of towns and 100km/h on gravel roads. In built up areas, the speed limit is 60km/h.
---
FOOD, DRINK AND CUISINE ADVICE
Traditional Namibian cuisine is rarely served and so the food at restaurants tends to be European in style and is, generally, of a very high standard. 
Namibia is very meat-orientated, and many menu options will feature steaks from various animals. However, there is usually a vegetarian and seafood section offered by most camps and restaurants.

In the supermarkets you'll find pre-wrapped fresh fruit and vegetables (though the more remote the areas you visit, the smaller your choice), and plenty of canned foods, pasta, rice, bread, etc. Most of this is imported from South Africa.
The water in Namibia's main towns is generally safe to drink, though it may taste a little metallic if it has been piped for miles. Natural sources should usually be purified, though water from underground springs and dry riverbeds seldom causes any problems. However, filtered and bottled water are readily available in most towns and all camps, lodges and hotels.
---
CLIMATE AND WEATHER
Partially covered by the Namib Desert, one of the world's driest deserts, Namibia's climate is generally very dry and pleasant – it's fine to visit all year round. Namibia only receives a fraction of the rain experienced by countries further east. Between about December to March some days will be humid and rain may follow, often in localised, afternoon thunderstorms. These are more common in the centre and east of the country, and more unusual in the desert.

April and especially May are often lovely months in Namibia. Increasingly dry, with a real freshness in the air, and much greenery in the landscape; at this time the air is clear and largely free from dust.

From June to August Namibia cools down and dries out more; nights can become cold, dropping below freezing in some desert areas. As the landscape dries so the game in the north of the country gravitates more to waterholes, and is more easily seen by visitors. By September and October it warms up again; game-viewing in most areas is at its best, although there's often a lot of dust around and the vegetation has lost its vibrancy.

November is a highly variable month. Sometimes the hot, dry weather will continue, at other times the sky will fill with clouds and threaten to rain – but if you're lucky enough to witness the first rains of the season, you'll never forget the drama.
---
CLOTHING AND DRESS RECOMMENDATIONS
Namibians have a somewhat relaxes attitude to dress codes. A jacket and tie is very unusual. In fact, long trousers and a shirt with buttons are often quite adequate for a formal occasion or work wear. A pair of sensible shoes, jeans and a t-shirt is recommended. 
During the day it is generally hot, so pack light weight loose fitting clothes in natural fabrics, such linen or cotton, that will keep you cool and are easy to wash and dry. 
Avoid blue clothing - the tsetse flies are drawn to the colour blue, and their bite can give you African Sleeping Sickness. 
Long sleeved shirts and long trousers will protect your against mosquitoes at night. 
---
ELECTRICITY AND PLUG STANDARDS
Electrical sockets in Namibia are Type M (SABS-1661). If your appliance's plug doesn't match the shape of these sockets, you will need a travel plug adapter in order to plug in. Travel plug adapters simply change the shape of your appliance's plug to match whatever type of socket you need to plug into. If it's crucial to be able to plug in no matter what, bring an adapter for all types.
Electrical sockets in Namibia usually supply electricity at 230 volts AC / 50 Hz frequency. If you're plugging in an appliance that was built for 230 volt electrical input, or an appliance that is compatible with multiple voltages, then an adapter is all you need. If your appliance isn't compatible with 230 volts, a voltage converter will be necessary.


DAY 1 : WINDOHOEK
Upon arrival at the Windhoek International Airport take possession of your car and drive 23 km to Voigtland Guesthouse for your first night. Relax after the long flight and enjoy a Sundowner cocktail while watching the sun set in the west. 
Voigtland Guesthouse is delightfully different and combines an  atmosphere of old world charm with a unique modern style. Originally built around 1900, the house is set on the slopes of a hill in a spacious landscape of trees, lawns and gardens. Elegant decor is combined with African and European furnishings. Spacious living & dinning rooms reflect the history of the House.
Voigtland is only a 30 min. drive from the capital city Windhoek towards the airport. The Guesthouse is ideally located to start and end your holidays, and the perfect place to begin disconnect and reconnect with nature.
DAYS 2 - 3  : MALTAHOHE


Your adventure commences as you set your bearings south and travel trough the endless open plains along the edges of the Kalahari. passing through the towns of Mariental and Maltahöhe  you reach  Burgsdorf Guest Farm in the early afternoon. Settle in and then enjoy an extensive walk along the hiking trails Burgsdorf offers. 
The  next day undertake a farm drive to learn about the activities of  working farm, while the afternoon is dedicated to a game drive in Burgsdorf's own reserve. This is a perfect time to try out a bit of digital detox using our phone only as a camera and communicating with your loved ones only in the evening.

ACTIVITIES AND SERVICES
Hiking trails


OPTIONAL 
Hang gliding


RECOMMENDED
Farm drive


DAYS 4 - 5 : NAMIB
Your rediscovery of nature continues as Ababis Guest Farm awaits you. Cruising between the Great Escarpment and the edges of the Namib desert you will reach your destination in the afternoon. 
Ababis Guest Farm is located at the foot of the Naukluft mountains. The Naukluft is a paradise for hiking. There are also exciting hiking trails on the farm. We provide a large number of well marked and maintained trails. For example, you can hike our local mountain, the Zipfelberg, and enjoy the magnificent view over the savannah and its surrounding mountains. Other activities, such as Horse riding, trekking-tours, sightseeing flights and balloon rides are possible in the neighbourhood. We are pleased to organise this for you.
The next morning drive to Sossusvlei. visit Dune 45, which you have the opportunity to climb and enjoy the unfolding panorama around you. Take a leisurely walk to dead vlei to marvel at the age-old dead tree trunks on the white lake floor and surrounded by the worlds biggest sand dunes.  On your way visit the Sesriem Canyon, a 36 metre-deep gorge cut into the limestone conglomerate.  the afternoon is at leisure to relax at the pool from the morning activities.
This is second opportunity to exercise some digital detox. Wi-Fi is only available in the reception area. So you can truly relax in your room.
And you are kindly asked, not bring your electronic devices with you to the common meals.

INFORMATION

4 x4 driving academy

Hiking trails


ACTIVITIES AND SERVICES
 
Dune 45: Named for its location 45 kilometres past the town of Sesriem, Dune 45 is renowned for its elegant shape, which – along with its position close to the road – have earned it the distinction of 'most photographed dune in the world'. If you're not keen for the strenuous hike to the top of Big Daddy, Dune 45 is a more forgiving alternative, standing at only 80 metres and featuring a much gentler gradient.


Dead Vlei: This ancient clay pan was once an oasis, studded with acacias and fed by a river that suddenly changed course, leaving the earth to dry up along with the trees it previously supported. So dry were the climatic conditions that the trees never decomposed – instead they were entirely leached of moisture so that today, 900 years later, they remain as desiccated, blackened sentinels dotting the pan's cracked surface. Surrounded by the red-pink dunes of the Namibia Desert, they create a surreal spectacle that is a photographer's dream. 


Sossusveli - The Red Dunes: This magnificent desert wilderness of vast, rust-coloured sand dunes, clay pans and petrified forests lies in the Namib-Naukluft Park. Formed over countless centuries, some of the dunes measure up to 300 metres in height and are among the highest in the world. In the rare event of an especially wet rainy season, the 'vlei' – meaning marsh or wetland – of Sossusvlei fills up with water, and its glistening surface forms a strikingly beautiful contrast with the reddish dunes.


Sesriem Canyon: Sesriem Canyon, a deep chasm carved through the rocks by water, is a striking natural feature of the area that is best explored on foot. Stony walls rise up sharply on both sides of the canyon, while birds roost in its crags and lizards dart along the ledges. The canyon's name was coined when early settlers used it as a water source, using six lengths of leather ('ses riem – six thongs) tied together to lower buckets into the water at the base of canyon.


RECOMMENDED

Farm drive



DAYS 6 - 7 : SWAKOPMUND


Drive to the coast and Swakopmund via the Moon Landscape, traversing the Namib desert from east to west. Spend the afternoon exploring the town and sip a cocktail for Sundowner watching the sunset over the Atlantic Ocean.
The next days you have a plethora of choices for activities to undertake: Kayaking in the lagoon of Walvis Bay with seals around you and dolphins, a dolphin cruise together with a 4x4 excursion to Sandwich Harbour, sand boarding, or quad biking, hang gliding, camel and/or horse riding,  If you are socially orientated undertake a township tour in Mondesa, for the ecologically interested the Living Desert excursion offers a fascinating insight into the desert ecosystem and if you are an aeronautic enthusiast there are flights to Sossusvlei and the southern Namib, flips over the Skeleton Coast. or hot air ballooning. For adrenaline junkies tandem skydiving over the coastal desert is on offer. 
in the evening try out one of the many fine restaurants for superb seafood platters.
The Namib is a coastal desert. The name Namib means "vast place". According to the broadest definition, the Namib stretches for more than 2,000 kilometres (1,200 mi) along the Atlantic coasts of Angola, Namibia, and South Africa, extending southward from the Carunjamba River in Angola, through Namibia and to the Olifants River in Western Cape, South Africa. The Namib's northernmost portion, which extends 450 kilometres (280 mi) from the Angola-Namibia border, is known as Moçâmedes Desert, while its southern portion approaches the neighbouring Kalahari Desert. From the Atlantic coast eastward, the Namib gradually ascends in elevation, reaching up to 200 kilometres (120 mi) inland to the foot of the Great Escarpment. Annual precipitation ranges from 2 millimetres (0.079 in) in the most arid regions to 200 millimetres (7.9 in) at the escarpment, making the Namib the only true desert in southern Africa. Having endured arid or semi-arid conditions for roughly 55–80 million years, the Namib may be the oldest desert in the world and contains some of the world's driest regions, with only western South America's Atacama Desert to challenge it for age and aridity benchmarks.
INFORMATION

Mondesa township tour: The township of Mondesa was established in the early 1950's to provide housing for black people working in Swakopmund.
A variety of tour operators offer tours through this fascinating township and a typical tour will include the opportunity to chat with locals and visit them in their homes, a visit to a traditional Nama herbalist, a drink at one of the local shebeens, lunch at a typical African restaurant, and traditional dancing.
Visits to clinics, schools, and creches can also be arranged through tour operators.

Welwitschia drive:  Welwitschia Drive is a stretch of scenic road through the desert in the northern corner of the Namib Naukluft National Park. The route passes by 13 numbered stone beacons, each indicating a point of interest. The route ends at one of Namibia's oldest and also largest Welwitschia plants.
Tour guide Tommy Collard will take visitors on this 50 km drive in a 4x4 vehicle, pointing out things of interest, answering questions, and making sure that nothing of importance is missed. Tommy Collard has been involved in conservation, tourism, herpetology and farming all his life and offers a rich store of information that will keep visitors interested.

Desert explorers quad biking: Desert Explorers Quad Biking 1 Hour Tour is a guided tour which covers 20km of the Swakopmund sand dunes.




RECOMMENDED

Namibia Kayak tours : Considered as one of the richest wetlands in Southern Africa, the Walvis Bay Lagoon is a mecca for nature lovers, photographers and the more adventurous traveller. Namibia Kayak Tours offer daylight kayak tours to Pelican Point and also the opportunity to experience a once in a lifetime adventure. The Walvis Bay Lagoon is home to a huge variety of birds, plankton species, fish life, dolphins and every so often whales can be spotted. For the lucky few, perhaps a glimpse of a mother whale and her calf, the Humpback and Southern Right Whales are known to frequent the wetland. We will visit the Pelican Point seal colony with a population between 15'000 and 20'000 Cape Fur Seals. These seals have no natural predators in the water and are keen to approach the kayaks. Perh
​


Mola Mola marine dolphin cruise: Experience the beautiful Skeleton coast of Namibia and the amazing riches of the Atlantic Ocean with the Mola Mola Marine Dolphin Cruise. See an abundance of bird and mammal life up close and delight in the sea air, fresh oysters and bubbles – all in the morning. Frequent sightings include bottlenose and heavy side dolphins, cape fur seals, mola molas, penguins, leatherback turtles, and whales (July-November). Lunch can also be arranged on the beach by special request.
Marine Dune Day: After the Marine Cruise, you disembark onto the Waterfront Jetty. Boarding 4×4 vehicles, the dune adventure to Sandwich Harbour begins. Lunch is served on the boat and snacks in the dunes.
We have coined a phrase for the Marine Dune Day – "EPIC IN A DAY" – and that sums up cruising on the Atlantic with seals and dolphins, and then the adventure and beauty of big dune driving and breath taking scenery, all in one day!
Please note: it is not always possible to reach the actual lagoon at Sandwich Harbour by vehicle, as the tide may be too high at times.
Mola Mola Sandwich Harbour 4x4: Sandwich Harbour 4x4 is a safari company based in Walvis Bay, Namibia, offering 4x4 excursions to Sandwich Harbour, Marine Dune Days, Kayak Combos and Bird Watching Activities in the Wetlands around Walvis Bay.

DAYS 8 - 9 : ERONGO MOUNTAINS


The morning is dedicated to the discovery of the Cape Cross Seal Reserve. Stop over and stretch your legs at the Zeila shipwreck, an abandoned fish trawler that was transported here by the Benguela current during a fierce storm. The reserve is found 50 km north of Henties Bay.
Cape Cross has both historic and biological significance and is a popular tourist attraction. The Portuguese navigator, Diego Cão,  landed here in 1486 on his second expedition south of the equator and planted a stone cross (padrão) to mark his journey. This reserve is a sanctuary for the world's largest breeding colony of Cape fur seals, with up to 210 000 seals present during the breeding season in November and December. 
Continue your journey to Ai-Aiba Rock Painting Lodge crossing the desert  from west to east and passing the landmark of the Spitzkoppe massif, with arrival in the later afternoon. 
The entire next day i spent with the resident San community at the San Living Museum nearby. Learn about their survival skills in the bush, the art of making strings for nets and the expertise of making bows and arrows. The afternoon is filled with games and dances, crowned by the famous  healing dance of the San.

RECOMMENDED

San living museum: The San have survived the harshest conditions imaginable for thousands of years and for those still living out of cities not a lot has changed. With their gentle and generous nature you will have a visit with a people that will stay with you a life time.





DAYS 10 - 11 : DAMARALAND
From Ai-Aiba Rock Painting Lodge drive to Bambatsi Guest Farm. Check in and relax until in the afternoon you visit Vingerklip nearby.  The Vingerklip is the geological leftover of a Ugab Terrace, its geological history can be read like an open book when looking at the layers of conglomerate. The Rock Finger stand on a hill top and has a height of 929 m above sea level, the rock itself is 35 metres high. Visitors are allowed to climb the hill to view the rock formation, but it is prohibited to climb the Vingerklip.
The next day is dedicated to explore the rock engravings at Twyfelfontein. The valley has been inhabited by stone-age hunter-gatherers of the Wilton stone age culture group since approximately 6,000 years ago. They made most of the engravings and probably all the paintings. 2,000 to 2,500 years ago the Khoikhoi, an ethnic group related to the San (Bushmen), occupied the valley, then known under its Damara/Nama name ǀUi-ǁAis (jumping waterhole). 
Next on the list are the Burnt Mountain and the Organ Pipes and the Damara Living Museum.
The Burnt Mountain is a hill with a solidified lava flow at the foot of a 12-kilometre-long volcanic ridge in Damaraland in northern Namibia. The 80-million-year-old stream of lava was formed by thermal and compression metamorphism and its red, brown, cream and purple colours creates a striking contrast at dusk with the surrounding 200-million-year-old beige rocks of Karoo slate. During the contact metamorphism that was caused by the intrusion, volatile organic components were driven off from the shale, leaving a charred black, clinker like burnt mass from which the mountain got its name. 
The Organ Pipes were formed about 150 million years ago as the result of the intrusion of liquid lava into a slate rock formation, which was exposed over time by erosion. They are a rock formation that comprises a group of columnar basalts which resemble organ pipes.
Return in the later afternoon and enjoy a well-deserved sundowner on the veranda.

ACTIVITIES AND SERVICES

Vingerklip: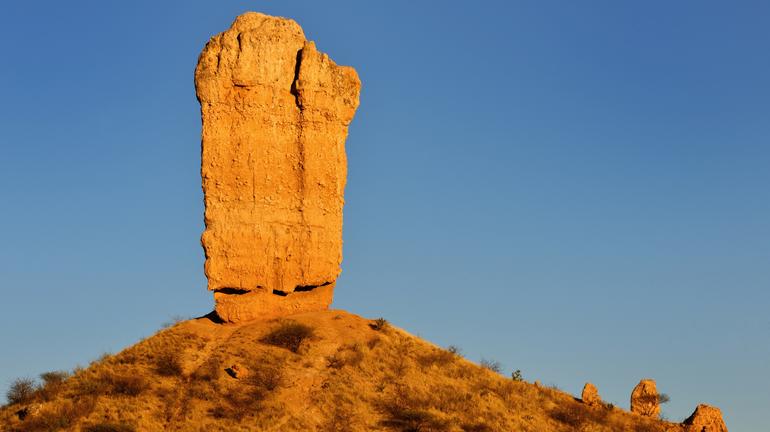 Twyfelfontein rock art : Twyfelfontein is a World Heritage Site boasting one of the richest rock art concentrations in Africa. Thousands of tourists come to this site each year to view some 2, 500 Stone Age rock engravings. The area is home to 17 rock art sites, which collectively encompass 212 engraved stone slabs. There are an additional 13 sites displaying rock paintings.


Organ pipes : The Organ Pipes are located near Twyfelfontein and a few kilometres to the Burnt Mountain in Damaraland, Namibia. It is a 100m long feature of unusual dolomite columns these rocks were formed by volcanic activity and after erosion, the rocks have remained in the form of organ pipes.


Burnt mountain : Burnt Mountain is a small hill located near Twyfelfontein and just a kilometre from the Organ Pipes in Damaraland, Namibia. This national monument displays an intense variety of colours formed by volcanic activity interacting with organic material that transformed into a sedimentary bed over 125 million years ago.

RECOMMENDED

Damara living museum : Observe and experience the traditional Damara way of life right in the heart of their traditional homelands. A unique opportunity to see a way of life that is slowly dying out.
Open daily.




DAY 12 : ETOSHA NATIONAL PARK
Continue your journey to the Etosha National Park,  to undertake your first game drive until sunset.  After dinner sit down at the illuminated  waterhole and watch as the nocturnal spectacle unfolds before you. The Okaukuejo waterhole is famous for the black rhino that frequent it at night to quench their thirst. Solitary elephants join in and assemble for their nightly silent rendezvous.  
Etosha owes its unique landscape to the Etosha Pan, a vast, shallow chalky-white depression of approximately 5000 sq.km that forms the heart of the park. Once a large inland lake fed by rivers from the north and east, it dried up 120 million years ago as continental drift changed the slope of the land and the course of the tributaries. A series of waterholes along the southern edge of the pan guarantee rewarding and often spectacular game viewing.
Of the 114 mammals species found in the park, several are rare and endangered, such as black rhino and cheetah, and the lesser-known black-faced impala, which is endemic to north-western Namibia and south-western Angola. Etosha's current population of black rhino represents one of the largest growing populations of black rhino in the world. Other large mammals in the park include elephant, giraffe, blue wildebeest, mountain and plains zebra, hyena and lion. Cheetah and leopard complete the trio of 'big cats'. Antelope species range from kudu, gemsbok, and the large and stately eland, to the diminutive Damara dik-dik. Smaller mammals include jackal, bat-eared fox, honey badger, warthog, and the ubiquitous ground squirrel.

ACTIVITIES AND SERVICES

Okaukuejo Area : Part of Etosha National Park in northwestern Namibia, Etosha South makes up the southern region of this wild paradise. The national park can be accessed via the southern entrance at Andersson's Gate. Visitors can catch a glimpse of a variety of wildlife including lion, giraffe, elephant, white and black rhino, and a multitude of plains game.



DAY 13 : ETOSHA EAST
Spend another day in paradise as you transfer from Okaukuejo to the eastern part of the park and Namutoni. Spend the whole day game viewing. With sunset check in at Namutoni Rest Camp and enjoy a well-deserved sundowner on  the veranda of the restaurant.
Namutoni was originally established as a control post during the mad cow disease (BSE) epidemic of 1897 in Namibia. The fort was built be the German Schutztruppe from 1902-03 and rebuilt in 1906 after the Ovambo destroyed the original building. The fort served as a police post and later as a South African army base. Fort Namutoni was declared a national monument in 1950 and was opened to tourism in 1957.

ACTIVITIES AND SERVICES

Etosha pan: Aeons ago, Etosha Pan was the bed of a vast lake; today what remains is a glittering, silvery-green salt pan that stretches across roughly 5000 square kilometres. Etosha is protected by the Etosha Pan National Park surrounded by savannah plains and woodlands supporting large herds of elephants. When dry, the pan sustains little life except for the algae that gives it its distinctive colour, and migratory birds that use it as a pit stop. But with heavy rain it becomes a shallow lake where flamingos breed, pelicans wade and feed, and a variety of mammal species come to quench their thirst, including leopards, lions, white rhinos, hunting dogs and antelopes.


DAYS 14 -15 : WATERBERG PLATEAU NATIONAL PARK

Expulsion from Garden Eden, but not before you have undertaken your last game drive in the park. Today you leave for Waterberg Guest Farm at the foothills of the Waterberg table mountain. En route visit the Otjikoto Lake, an ancient sinkhole in the surrounding dolomitic rock formation. In Tsumeb you have the opportunity to visit the interesting mine museum exhibiting all all the 215 different minerals found in the now abandoned Tsumeb copper mine. 
Arrive at Waterberg Guest Farm in the afternoon, settle in and relax near the pool side.
The next day you have the opportunity to undertake a farm drive that will take you to the Cheetah Conservation Fund, where can gain an insight into the scientific conservation efforts to save this endangered species from extinction.
Founded in Namibia in 1990, Cheetah Conservation Fund (CCF) is dedicated to saving the cheetah in the wild. Cheetah Conservation Fund's holistic conservation strategy is the key to success in saving the cheetah and its ecosystem. CCF works to develop best practices that benefit the entire ecosystem upon which the cheetah depends. CCF's programs address the concerns for wildlife populations and the human communities that share the landscape.
RECOMMENDED

Farm drive & visit to cheetah

Cheetah conservation fund cheetah run: Visitors can experience a 30-minute duration thrill of close up views of cheetahs running as the animals commence with their morning exercise at the Cheetah Ecolodge, located in Otjiwarongo, Namibia. The cheetahs will be 'hunting' the reserve's specially made lure, during this time one will have the chance to capture memorable photos and videos of their magnificent speed. The country has earned the nickname "Cheetah Capital of the World" for having the greatest density of wild cheetahs of any area on Earth.

DAY 16 : END OF ITINERARY


Sadly, all things come to an end and so today you depart to the airport for your return flight back home.
WINDHOEK
Situated in Central Namibia, the cosmopolitan city of Windhoek serves as the capital of the country. It is home to an international airport and a plethora of restaurants, shops, entertainment venues and accommodation options. The city is clean, safe and well organised, with a colonial legacy that is reflected in its many German eateries and shops, and the widespread use of the German language. Windhoek has an interesting mix of historical architecture and modern buildings, many of which are worth a look, including the Alte Feste an old fort, the 1896 Christuskirche Christ Church, and the more contemporary Supreme Court.
Voigtland guest house - Windhoek
Originally built in 1900 atop a hill in Windhoek, Voigtland Guesthouse combines old world charm with a modern style. The guesthouse immerses guests among nature while still being close enough to the capital city.
The property is home to a guesthouse featuring various guestrooms, a spacious living and a dining room. The guesthouse offers the choice of delicious home-cooked breakfasts, lunches and suppers. The property also houses four en-suite chalets, two of which are equipt with a kitchenette.
Your Stay: 1 Night, Dinner, Bed & Breakfast
Luxury room

Big double room with two 3/4 size twin beds, very light and luxury. Bathroom has bathtub and shower



Luxury twin room
Double/twin standard room with 2 single beds, en-suite bathroom with shower.


Luxury double room terrace
Big double luxury room with own big terrace with kitchenette and fridge en-suite bathroom with shower.
Luxury king room
Luxury big double room with sky light, ideally for Honeymooners en-suite with shower.


Luxury room single
Luxury room with en-suite with shower. Tea coffee making facilities and sitting area.


Group bookings
Group bookings only
MALTHOHE
Set on the edge of the Swartrand escarpment and serving as a popular stopover for visitors travelling to Sossusvlei and the Duwisib Castle, the village of Maltahohe was established when the District Commissioner of 1899 decided that an outpost further west of the vast, Central Namibian district was required. Maltahohe is home to the oldest hotel in the country, equipped with its original bar and serves as an excellent base from which to explore the scenic surrounding area including a local farm 35 kilometres north of the town that has an 800-hectare shallow pan that, after flooding, is carpeted by a blanket of colourful lilies for about a week before they are devoured by elephant-nosed beetles. Visitors can also look forward to viewing the imposing Dutch Reformed Church in the heart of the village, watching a concert by the local Ama Buruxa choir group, and enjoy a hearty traditional meal. Maltahohe is the perfect spot to take a breather from the road and stock up on supplies before heading off again.
Burgsdorf guest farm - Maltahohe
The historical old farm house is built out of natural stone, in German colonial style. Burgsdorf has a rich history dating back to 1899. The name of the Farm Burgsdorf comes from the 'Hauptmann' Von Burgsdorff who was the commander of the Gibeon district.
Your Stay: 2 Nights, Dinner, Bed and Breakfast
Twin room


Standard Twin Room with two single beds, bedside table and lamp, cupboard, chair, air-conditioning and a small en-suite bathroom with shower, toilet and basin.



Small double room


Standard Double Room with one double bed, bedside table and lamp, cupboard, chair, air-conditioning and a small en-suite bathroom with shower, toilet and basin.


Family room


Standard Twin Room with two single beds, bedside table and lamp, cupboard, chair, air-conditioning and a small en-suite bathroom with shower, toilet and basin.



Suites - large comfort room


Large Comfort Room with two single beds (can be converted into a King-size bed), bedside table and lamp, cupboard, chair, air-conditioning and a en-suite bathroom with shower, toilet and basin. Bar Fridge, Electronic Safe, Coffee and Tea Facilities. Vera

Single room

Small Single Room with en-suite bathroom
PROPERTY FACILITIES
Laundry Service (Available), Malaria Free, Mobile Connectivity, Pool, Secure Parking
ROOM FACILITIES
Air Conditioning, Complimentary Wi-Fi, Electrical Outlets, En-Suite, Lounge Area, Satellite / Cable Television, Television




NAMIB
The Namib Desert is the world's oldest desert, and although it stretches along the entire length of Namibia's coastline into southern Angola and even the northern Cape Province of South Africa, the Namib commonly refers to the vast sea of sand extending from Luderitz to Swakopmund. This vast expanse of breathtakingly beautiful sandy desert features remarkably varied scenery including, the massive red dunes of the world-renowned Sossusvlei, the moonscapes of the Namib-Naukluft Park, the stark beauty of the Atlantic Coast and a diversity of fauna and flora. This windswept, arid, ancient landscape is teeming with desert-adapted wildlife such as endemic chameleons, brown hyenas, gemsbok, jackals and seals along the coastline and a variety plantlife including the famous welwitschia plant, a unique living fossil. Other highlights of the Namib include: Fish River Canyon, Kolmanskop ghost town, Luderitz, Cape Cross seal colony and the Skeleton Coast.
Ababis guest farm - Namib
The Ababis Guest Farm was originally established as outpost for the former "Imperial State Stud" to breed horses for the colony. The 32,000ha farm lies on the edge of the Namib Desert and is divided into a commercial farming section and a 15,000ha private nature reserve, which focuses on species protection.
Today the farm is predominantly stocked with cattle and ostriches and the reserve includes species such as gemsbok, springbok, blesbok, zebra, kudu, and some bat-eared foxes. Due to a central location and attentive and personal service this is the ideal place to linger for a few days enjoy the comfortable rooms which boast a private bathroom and verandah. There is a shady garden to enjoy and mealtimes are marked by good food and selected wines.
Your Stay : 2 Nights, Dinner, Bed & Breakfast
SWAKOPMUND
Set along Namibia's spectacularly scenic coast, the seaside town of Swakopmund is known for its wide-open avenues, colonial architecture, and its surrounding otherworldly desert terrain. Founded in 1892 as the main harbour for German South West Africa, Swakopmund is often described as being more German than Germany. Now a seaside resort town, Swakopmund is the capital of the Skeleton Coast tourism area and has plenty to keep visitors happy. The quirky mix of German and Namibian influences, adventure options, laid-back atmosphere and cool sea breeze make it a very popular Namibian destination. Visitors can look forward to a number of exciting activities including: quad biking, horse riding, paragliding, fishing, sightseeing and fascinating desert tours.
Casa al mare - Swakopmund
True hospitality at the West Coast now has a name: CASA AL MARE. This quaint little but exclusive guest house only two minutes from the beach offers a warm and passionate welcome to the weary traveller who wants to rest his head after a long journey under the scorching sun through the barren wide open spaces of the Namib Desert. And here, where the desert meets the Ocean, two hearts have amalgamated to offer their guests something really special: Unrivalled exquisite and precious Namibian – Italian hospitality.
This is choice if you want friendly, warm Namibian reception with Italian "allegria", a cosy relaxing and inspiring atmosphere with the sound of the ocean waves only a few steps away and truly feeling at home. Because here is where your heart is HAPPY.
Guests really do enjoy Italian-Namibian hospitality in five Italian-styled cosily equipped sea facing bedrooms with satellite TV, a sea facing lounge and breakfast restaurant that also offers dinner on demand – obviously with World Heritage Quality pizzas on the Mediterranean menu and many other passionately prepared and home-made dishes that leave the palate lingering for more. And a sun terrace for that healthy seaside tan to the envy of your neighbours complete the service
Your Stay: 2 Nights, Bed & Breakfast
Twin room downstairs


Room has 2 Single beds that can be converted into a double bed. Equipped with a shower ,desk,toilet,DSTV,TV, and a safety deposit box.




Twin room upstairs


Oasis twin luxury rooms with en-suite facilities, air-conditioning, safe, mini bar and coffee & tea facilities



Family room upstairs

Family room has 3 x Single beds in it. Room equipped with shower, desk, Safety box, bidet, DSTV,and a TV.



PROPERTY FACILITIES
Communal Dining, Internet Access (Complimentary), Meal on Request, Mobile Connectivity, Secure Parking.
ROOM FACILITIES
Complimentary Wi-Fi, Electrical Outlets, En-Suite, Lounge Area, Pure Cotton Linen, Satellite / Cable Television, Shower, Television.
ERONGO MOUNTAINS
Conveniently located only a few hour's drive from Namibia's capital city of Windhoek, the Erongo Mountain Range stretches across the plains between the towns of Omaruru and Karibib, and is home to a remarkably rich natural heritage. This expanse of rugged wilderness serves as one of Namibia's most popular tourist drawcards, attracting visitors with its spectacularly scenic landscapes, magnificent caves and rock painting sites, and its impressive array of wildlife species. These include, among others: rhino, elephant, cheetah, leopard, giraffe, wildebeest, impala, blesbok, waterbuck, kudu, warthog, mountain zebra, oryx, eland, springbok and over 200 species of bird. Visitors can look forward to enjoying a variety of adventurous activities such as hiking, rock climbing, games drives, horse riding safaris and mountain biking.
Ai Aiba rock painting lodge - Erongo mountains
Set afoot massive granite rock boulders, overlooking the magically beautiful Erongo mountain range, is Ai Aiba - The Rock Painting Lodge.
The overwhelming panoramic view from the restaurant and bar is amazing. The crystal clear pool invites you to refresh and relax. Your view sways leisurely over the endless landscape. Here you can enjoy the tranquility and purity of Africa.
Ai Aiba is an active member of the Erongo Mountain Nature Conservancy, an association of farmers dedicated to the protection and preservation of the unique fauna and flora, as well as the magnificent granite landscape of the Erongo.
Your Stay : 2 Nights, Dinner, Bed & Breakfast
Info: Lodge
Nº rooms: 20 Rooms, 
Spoken languages: English, Afrikaans, English
Special Interests:  Adventure, Birding, Flora, Hiking, History & Culture, Indigenous Culture / Art, Leisure, Nature, Relaxation, Wildlife
Twin room

Luxurious twin room with private patio, en-suite shower and separate toilet. The rooms are tastefully furnished in African style with air condition and a safe for valuables.


Triple - quadruple room


Luxurious Triple/Quadruple room (i.e. Twin room with an additional bed or bunk bed) with private patio, en-suite shower and separate toilet. The rooms are tastefully furnished in African style with air condition and a safe for valuables.


Luxury Family en suite room


Consist of one en suite room with King-size bed,Flat screen TV with DSTV, bathroom with shower or bath, private covered patio. All rooms have air-conditioning and heating. Provided in the rooms are Flat screen televisions with selected DSTV channels, bar fridges, safes, coffee and tea facilities. All linen and towels, and complimentary amenity kit are provided. Additional services include: laundry services, private braai area and e-mail and fax facilities. Wake up calls and room service available on request. FREE WiFi and secure parking.
Family use only. 1 Double bed and one single bed (max. 3 people)


Luxury Family en suite unit


Consist of two interlinked en suite rooms. One with King-size bed and single bed and the other two single beds ,Flat screen TV with DSTV, bathroom with shower or bath, private covered patio. All rooms have air-conditioning and heating. Provided in the rooms are Flat screen televisions with selected DSTV channels, bar fridges, safes, coffee and tea facilities. All linen and towels, and complimentary amenity kit are provided. Additional services include: laundry services, private braai area and e-mail and fax facilities. Wake up calls and room service available on request. FREE WiFi and secure parking.
Family use only. 1 Double bed and 1 single bed in the one room and 2 single beds in the other room. (max. 3 people)


Luxury self catering suite


Consist of one en suite room with King-size bed,Flat screen TV with DSTV, bathroom with shower and bath, separate Kitchen with lounge, private covered patio/courtyard with gas braai.
All rooms have air-conditioning and heating. Provided in the rooms are Flat screen televisions with selected DSTV channels, fridges, safes, coffee and tea facilities. All linen and towels, and complimentary amenity kit are provided. Additional services include: laundry services, private braai area and e-mail and fax facilities. Wake up calls and room service available on request. FREE WiFi and secure parking.
Family use only. 1 Double bed and one single bed (max. 3 people)


Self catering luxury studio apartment


Consist of 3 bedrooms with two bathrooms, a fully equipped kitchen, dining area, lounge with TV(DSTV),DVD/CD player, office and private courtyard with braai facilities
All rooms have air-conditioning and heating. Provided in the rooms are, safes, coffee and tea facilities. All linen and towels, and complimentary amenity kit are provided. Additional services include: laundry services, private braai area and e-mail and fax facilities. Wake up calls and room service available on request. FREE WiFi and secure parking.
Unit consist of 3 bed rooms. Main bedroom with double bed and en suite bathroom. The other two rooms with 2 single beds each. (6 people max.)
PROPERTY FACILITIES
24-hour Security, Activity Desk, Bar, Battery Charging Facilities, Eco Friendly, Internet Access (Complimentary), Malaria Free, Mobile Connectivity, Pool, Restaurant, Secure Parking
ROOM FACILITIES
Air Conditioning, Electrical Outlets, En-Suite, Laundry Service (Available), Lounge Area, Safe, Shower, Verandah
SERVICES
Credit Card
Nature drive - Bushman rock art :
this drive takes about 3 hours, through the scenically beautiful lodge property, with selected stops at sites to view and learn about bushman rock art. The drive will also include a stop for refreshments and snacks. A must-see for anyone visiting the area. This drive can be done both in the morning or the afternoon.
Morning drive – departs at 07h30 (Summer and Winter). Breakfast served from 07h00.
Afternoon drive – departs 17h00 in Summer*, and 16h00 in Winter*.
*Rates for activities available in documentation.





Guided walks :
walking the area surrounding the Lodge is highly encouraged and is an excellent way to experience the beauty of the Erongo Mountains. Our guides have been very well trained on the interesting Fauna and Flora of the area and are available to escort guests through the property.
Guided Morning walks:
Breakfast is available in the restaurant from 07h00.
Your guide will take juice and snacks along for en-route. Please carry your own water.
Please ensure that you wear good walking shoes, and have adequate sun protection.
1)Ai Aiba Walk:
This walk is 2 – 3 hours in duration and can be of varying degrees of difficulty depending on your preference. It will include visits to certain rock art sites, and a focus on the smaller intricacies of nature.
Morning walk departs at 07h30 (Summer and Winter), from the restaurant.
2)Walk & Drive:
This activity starts from the lodge with a 10min drive to Moringa valley. From there guests hike to a number of different rock art sites, including some fantastic viewpoints along the way. Then another short drive (10-15min), followed by another hike through majestic landscape to view some more rock art sites and fantastic rock formations. A short 20min drive will then take you back to the lodge. Total duration is approximately 3 hours.
Morning walk departs at 07h30 (Summer and Winter), from the restaurant.
3) Walk with visit to the San Living Museum:
This walk is approximately 3 hours. Our guides will walk with you to the San Living Museum, stopping at certain rock art sites en-route. Once at the Living Museum the bushman will take guests on a bushwalk, and then our guides will lead you back to the lodge again.
Morning walk departs at 07h30 (Summer and Winter), from the restaurant.
Sundowner walk:
Very close to the lodge, you will be guided up a granite hill where you can relax and enjoy a cold
'sundowner' drink while watching the sun set over spectacular views of the Erongo Mountains.
Sundowner walk departs at 18h30 (Summer) and 17h30 (Winter), from the restaurant.
(Note that our guide will gladly take your drinks order, and carry the drinks up to the sundowner spot for you.)
*Rates for activities available in documentation

Self-guided walking trail :  this trail takes about 1 hour, and is on the hill behind the lodge. It is marked by painted arrows. The trail goes past Rain Cloud Cave and Elephant Wall, both sites with bushman rock art. The trees along the route are tagged for identification – list available at Reception.
*Rates for activities available in documentation
San Living Museum tours ( available from 08h00 to 15h30 )
:
various tours are available, and can all be booked directly at the lodge. Times are flexible, and bookings can usually be made according to your requirement. Please ask at Reception for more information.
•Bushwalk – approx. 2hours. Learn about hunting, snaring, tracking, lighting fire and collecting bush food.
•Live in the village – approx. 2hours. Learn about singing and dancing, lighting a fire, making ropes and jewelry.
•Combination (Action day) – approx. 4hours. A combination of the bushwalk and the "live in the village" tour.
*Rates on request
Ai Aiba lodge restaurant


The Lodge consists of a main building with a thatched roof dome, which hosts the welcome area with reception, guest lounge, public bar and restaurant which can seat up to 50 guests - serving breakfast, lunch and dinner.
DAMARALAND
This vast desert landscape is known as one of the most beautiful regions in Namibia. Huge, untamed and ruggedly beautiful, Damaraland is an exceptionally scenic landscape featuring open plains, ancient valleys and spectacular rock formations. The major attractions are the sacred Spitzkoppe, the Brandberg, Twyfelfontein, Vingerklip and the otherworldly Petrified Forest. Visitors can take in the dramatic vistas, catch a glimpse of the rare desert-adapted elephant, and enjoy spectacular stargazing in crystal-clear night skies from one of the many safari camps dotting Damaraland. Other popular activities include: guided drives, nature walks and visiting the local communities. Don't miss the opportunity to view the Damaraland's world-famous ancient rock art.
Bambatsi guest farm - Damaraland
Bambatsi is one of the oldest guest farms in Namibia. It is situated 400 km north of Windhoek and lies 2 hours away from the Etosha National Park.
The guest farm with its endless horizons, lies about 1234 m high on a giant ridge, the natural geologic divide, between the central highland and the Namib desert. The farm house is built on plateau, that has an awe-inspiring view over the Mopane landscape.
This accounts for the wonderful climate throughout the year and will inspire you to take walks through the surrounding mountains or the Mopane forest, where you can catch sight of indigenous game and birds.
Enjoy a relaxing sundowner on the patio of your bungalow, the pool or the bar, while being dazzled by spectacular and typical Namibian sunsets.
The comfortable bungalows are fitted with a double bed and some contain one or two single beds, electrical fittings, a shower and WC. A hostess will personally prepare an excellent German-Namibian fare for you.
Regular guests do affirm, with either extended or repeat visits, that it is money well spent (worth your while), if you plan two or more nights at Bambatsi, while planning your holiday.
It is safe to undertake day trips to the "Fingerklippe", Twyfelfontein or to the fossilized forest, then return to the farm for local tea time, which includes delicious home-baked cake and coffee or tea. You can enjoy the sunset with a sundowner on the terrace.
Your Stay : 2 Nights, Dinner, Bed & Breakfast
ETOSHA NATIONAL PARK
Situated in north-western Namibia, the Etosha National Park offers a premier game viewing experience. The park's diverse vegetation ranges from dense bush to open plains attracting a variety of wildlife. Located in the heart of the park is the Etosha Pan - a shallow depression that covers an area of 5000 square kilometres. Dry and shimmering for most of the year, the pans fill up with water after seasonal rains, making it the perfect habitat for wildlife. In the dry season, the wildlife is attracted to the perennial springs and waterholes that makes for excellent game viewing. Visitors can look forward to excellent game viewing including a variety of large mammals such as lion, elephant, leopard, rhino, zebra, giraffe, a diversity of birdlife such as flamingos and pelicans.
Okaukuejo rest camp - Etosha national park
Okaukuejo is located 17 km from the southern entrance of the park, and famous for its floodlit waterhole, where visitors can observe at close quarters a spectacle of wildlife congregating and interacting. Accommodation is provided to suit every need, in premier bush chalets overlooking the waterhole; bush chalets and double rooms; or family chalets. Other facilities include a restaurant, bar, shop, swimming pool, kiosk and camping facilities.
Okaukuejo Rest Camp is also the administrative centre of Etosha. Most visitors travel through this camp with its characteristic stone tower and Etosha Ecological Institute is also situated within the camp. The rest camp was formerly a military outpost founded in 1901 and the tower was added in 1963. Located in the south of Etosha National Park, Okaukuejo offers a wide range of accommodation as well as all the necessities such as a petrol station and a shop. The restaurant and bar offer refreshments and delicious meals, while the swimming pool offers relief on hot days. The waterhole is a hub of animal activity starting in the early hours of the morning.
Especially during winter, a diversity of game congregate in close proximity to the camp to quench their thirst. After sunset floodlights illuminate the waterhole. This is the best time and place to see the endangered black rhino. This archaic mammal can often be seen drinking alongside lion and elephant. The number and interaction of the animals is the major drawcard of Okaukuejo Rest Camp in Namibia.
Your Stay : 1 Night, Dinner, Bed & Breakfast
ETOSHA EAST
Located in north-western Namibia, Etosha East is a protected sanctuary in the eastern part of the world-renowned Etosha National Park, known as one of the most accessible game reserves in Southern Africa. Etosha East boasts vast open plains scattered with semi-arid savannah grasslands dotted with watering holes and secluded bush camps. The impressive 5000-square-kilometre Etosha saltpan makes up a large area of the eastern side of the park and is visible even from space. This remote area teems with abundant wildlife such as lion, elephant, black rhino and giraffe, as well as a variety of birdlife featuring flamingos, ostriches, eagles, hornbills, and owls.
Namutoni camp - Etosha east
Located in the eastern part of Etosha National Park, Namutoni Camp is built into an old German fort and features an elevated view of the King Nehale Waterhole. The camp is in close proximity to Fisher's Pan, making it a hotspot for birders. Fort Namutoni was declared a national monument in 1950 and was opened to tourism in 1957.
The camp features spacious and comfortable chalets with en-suite bathrooms. There are 2 restaurants at the camp, African Fusion and The Steakhouse. Other camp facilities include a bar, a shop, a petrol station, and a swimming pool.
Your Stay: 1 Night, Bed & Breakfast
WATERBERG PLATEAU NATIONAL PARK
Situated in north central Namibia and named for the springs that emanate from its foothills, the Waterberg Plateau National Park is a fascinating geological site featuring compressed sandstone crags, 200 million-year-old dinosaur footprints, and petrified sand dunes. The area's natural water sources make it far more fertile than its environs, and the park is blessed with a plethora of plant and animal species, including leopards, rhinoceros, vultures, cheetahs, bush babies, ferns and fig trees. Visitors can enjoy a wide selection of activities including: learning about the local Herero culture on an informative village tour, tracking rhino on a guided safari, exploring the Waterberg's 50-kilometre-long and 16-kilometre-wide sandstone plateau, dubbed 'table mountain', and catching a glimpse of the rare and endangered sable and roan antelope.
Waterberg guest farm - Waterberg plateu national park
Our guests are pampered in a style befitting the spectacular surroundings.
The original 1930s manager's house was converted into a guesthouse with 4 double and twin rooms, all with en-suite bathrooms.
The spacious dining room is also located in the guesthouse, along with the comfortable lounge - the perfect spot to relax after a long day outdoors.
Guests can also soak up the atmosphere of the unspoilt African bush in our two secluded, luxury 'bush bungalows' situated 160 metres from the main guesthouse. The truly unique bungalows are built according to the traditional Herero method using natural materials from the surrounding mountains.
While the bungalows themselves are constructed with only natural materials, the interiors are decorated in contemporary African design and offer all the modern amenities to ensure your comfort. They also offer the unique choice of showers either inside or outside, surrounded by breathtaking views!
The traditional African grass-roofed "lapa" next to the swimming pool offers al fresco dining and a fully stocked 'honesty bar'. Here guests can sit on the wooden deck and watch the floodlit waterhole as antelope, warthog and the occasional leopard come to drink, and in turn, be watched by our resident family of baboons.
Our concept is simple - a small luxury guest house, accommodating a limited number of guests, set in the midst of a wildlife haven with personal attention, spectacular surroundings and exceptional cuisine.
Over dinner, your hosts can share their broad knowledge on numerous and diverse subjects ranging from the local history and culture, wildlife and nature, conservation efforts and predator management through to the realities of day-to-day life on an operational Namibian ranch.
Animals can be viewed on guided game drives through the rugged surrounding terrain in four-wheel drive vehicles, or just by sitting on the viewing deck at our floodlit waterhole.
And after a long day in the bush, there's nothing quite like relaxing with an ice-cold sundowner around the pool, watching as the setting sun illuminates the blood-red Waterberg Plateau.
Catering for only a limited number of guests also enables us to personalize your visit to suit the specific wishes of your group. Whether you're celebrating a birthday, anniversary or any other special occasion, we can customize your stay to ensure a truly memorable occasion.
Your Stay: 2 Nights, Dinner, Bed & Breakfast
Double - twin room family unit

Family Unit for up to 4 people, The room can be booked for 2 or 4 people.





Bush bungalow

While the bungalows themselves are constructed with only natural materials, the interiors are decorated in contemporary African design and offer all the modern amenities to ensure your comfort.






Double - twin room

All rooms have toilets, showers and basins (one of the rooms also has an additional bathtub). All rooms have their own private entrance leading out to a verandah.





Maxi bungalow

Maxi offers ample space for a travelling family of 4, there is an inside and outside shower and an outside tub for the hot summer nights. The bungalow is fitted with an extra large double bed and a sofa bed for the kids. Terrace with a breathtaking view.


New bungalows

Our new bush bungalows are a unique and modern design and boast of space and breathtaking views from a terrace with seating. The room offers a king size bed with an option for an extra bed for a child sharing.


Self catering villa

The Villa offers 2 bedrooms with 2 bathrooms, a fully fitted kitchen, a lounge area and a tv room with WIFI. A fire place is available on the patio. It suits a family of 4 or 4 adults. Meals can be booked separately.



PROPERTY FACILITIES

Bar, Internet Access, Library, Malaria Free, Mobile Connectivity, Pool, Restaurant, Secure Parking

ROOM FACILITIES

Fan, Hair Dryer, Safe, Shower, Tea / Coffee


SERVICES

Credit Card, Laundry Service